a twenty minute drive due east of escondido will bring you to the sleepy, sun-baked community of valley center; home to orange groves, craggy

avocado

hillsides, and the once monthly "matilda mouse." held in a

peely

old barn, this vintage assemblage is meticulously curated and filled to the brim with any & all sorts of vintage ephemera & by-gone objects of long ago. it is enough to affront the constitution of even the most staunchly committed, allowance abiding wife!

while there on my last visit i came upon a small tin bucket of the most adorable plaster letters. i am quite

smitten

with them! 5 letters for a dollar –oh, i should have bought them all!

also scored? this large english

jar

.


and this tiny cast iron

bathtub

. perhaps it will become a soap dish or business card holder…or? i don't know, but it needed to come home with me.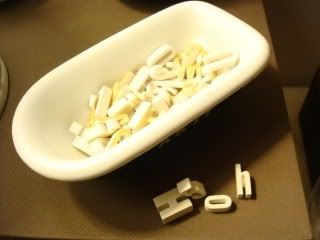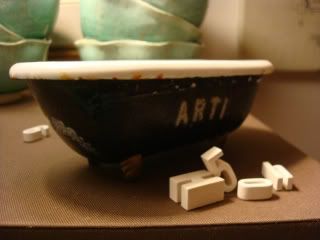 * hubby was momentarily
alarmed
when i told him i bought a bathtub! :)